Helping people living with disability achieve greater independence.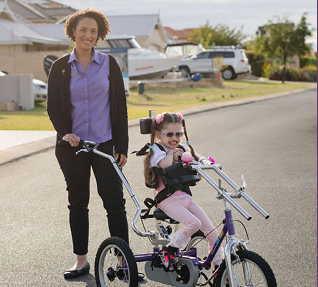 What is Assistive Technology?
Assistive technology can be classified as devices or systems that provide practical solutions to everyday activities. Assistive technology can increase, maintain or improve independence and safety by helping people to perform tasks they have difficulty with, or are unable to do on their own.
Assistive technology can be low-tech, such as communication boards, or
high-tech, such as specialised power wheelchairs. Choosing the right device or system depends on a number of factors including a person's abilities, where the assistive technologies will be used, and what you want to achieve.
How we can help
Our Assistive Technology Specialists are highly experienced in the prescription and use of assistive technology.
After completing an assessment based on your needs, they can recommend assistive technology solutions and provide information and advice about the options available.
Assistive technologies we can provide support for include, but are not limited to:
Wheelchairs and walkers
Hoists and slings
Vehicle modifications (for access)
Personal hygiene equipment
Specialised seating and accessories
Postural supports
Communication devices
Modified bicycles and tricycles
Switching devices and mounting of switching devices (i.e. to wheelchairs)
Universal access technologies
What is Assistive Technology?
Once suitable assistive technology is identified, our Assistive Technology Team source items and explore suitable funding options.
If you are not eligible for Government funding, we can provide information about alternative funding options that may be available.
Our Assistive Technology Team have extensive experience managing requests for assistive technology and have developed strong relationships with funding bodies and suppliers to ensure the best outcomes for our customers.
We help children and adults with disability access the assistive technology and equipment they need to live their best lives.
Accessing our services
If you're ready to get started, we're ready to share every step of your journey. Our services can be accessed through a range of funding options, or can be purchased privately.
For more information visit our website at therapyfocus.org.au or call our friendly team on 1300 135 373.