Compare the quality of aged care homes with Star Ratings
All aged care homes receive an Overall Star Rating and a rating across four sub-categories.
Overall Star Rating
Residents Experience
Compliance
Staffing
Quality Measures

A sample of 10 per cent of residents are surveyed annually about their overall experience at their aged care home.

Based on regulatory decisions by the Aged Care Quality and Safety Commission, including compliance with the Aged Care Quality Standards.

The average amount of care time residents receive, based on care delivered by registered nurses, enrolled nurses, personal care workers or assistants in nursing, compared with the minimum average care targets set by the Australian Government.

Based on information about five crucial areas of care, including falls and major injury, unplanned weight loss, pressure injuries, medication management and the use of physical restraint.
Based on this information, Star Ratings provide information about the quality and safety of aged care homes. Star Ratings use a 1 to 5 star scale.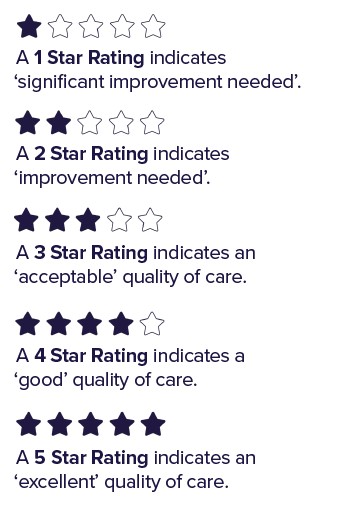 Choose the right aged care home for you.
Star Ratings make it easier to compare the quality and safety of aged care homes.
Visit the My Aged Care website.
Click on the 'Find a provider' tool.
Search for an aged care home by location, care options and other factors that are important to you.
Use Star Ratings to compare the quality and safety performance of aged care homes.
Choose the aged care home that suits your needs, considering other important information such as location, availability and cost.
For more assistance, you can call My Aged Care on 1800 200 422.
The Australian Government has introduced Star Ratings to improve transparency about the quality of care in aged care homes. This is consistent with the recommendations of the Royal Commission into Aged Care Quality and Safety.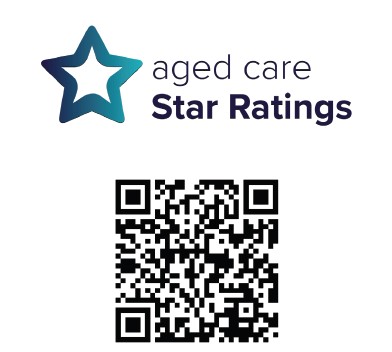 Visit: myagedcare.gov.au/ find-a-provider