MORE THAN JUST MEALS
We don't just deliver meals. Our volunteers come with a warm smile and a friendly chat too. Every meal delivered gives our volunteers an opportunity to check-in on the health and wellbeing of our clients. This is so important because we may be the only person they see that day.

ALWAYS DELIVERING
For more than 65 years, Meals on Wheels has delivered meals to thousands of Queenslanders with a wide variety of support needs. Whilst we're best known for delivering meals to seniors, we also serve those with disabilities, those recovering after hospitalisation or illness, and those in need of assistance. We are considered an essential service with respect to the COVID-19 pandemic.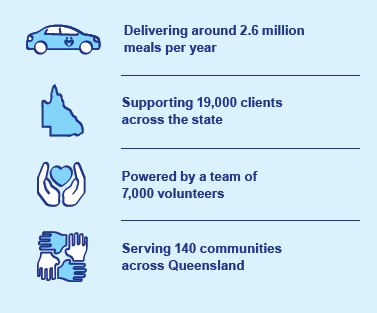 DELICIOUS AND NUTRITIOUS
If you, or anyone you know is unable to prepare meals, then let us do it for you! We take great pride in providing
meals that are delicious, varied and designed to meet a variety of dietary needs.

SPECIAL DIETARY NEEDS
We cater for a range of special dietary needs and can also accommodate many food allergies.

Meals on Wheels delivers a wide range of nutritious meals, snacks and desserts to our clients right across Queensland. This is just one of the delicious recipes our chefs create for our clients to enjoy. Why not try a piece for morning tea with a cup of tea and see just how good it is?
STICKY DATE PUDDING
Servings 20
Preparation 15 minutes
Cooking 35 minutes
Ingredients
1kg dates, pitted and chopped
4 tsp bicarbonate of soda
1L boiling water
180g softened butter
550g brown sugar
8 eggs
1½ tsp vanilla essence
1kg self-raising flour, sifted
Sauce
300g butter
750g brown sugar
750ml pouring cream
Method
Preheat fan-forced oven to 170°C (180°C for conventional oven).
Place the dates and bicarb soda in a bowl. Pour over boiling water and leave to stand for 15 minutes.
In a food processor, cream the butter and sugar. Add eggs and vanilla essence. Mix to combine.
Fold sifted flour into the egg and sugar mix.
Add the dates to the mixture and mix until smooth
Pour into a large, greased baking tray
Cook for 30 to 40 minutes or until firm when touched.
While the base is baking, place the butter and sugar into a large saucepan over high heat and stir until sugar has dissolved. Gradually, add the cream, stirring to combine. Bring to boil and cook for 6 to 8 minutes. Remove from
heat and allow to cool.
Slice the sticky date pudding into squares and serve warm with the caramel sauce.
A CHOICE OF FUNDING OPTIONS
Those in need of Meals on Wheels services may be eligible for:
Commonwealth Home Support Programme (CHSP) subsidy
Home Care Package (HCP)
National Disability Insurance Scheme (NDIS) plan
Fee for service
Contact us for further details.
FLEXIBLE
Our service is flexible – choose a daily support option (Monday-Friday) or a short-term arrangement to cover
situations, such as your caregiver going away.

How do I get started?
Contact your nearest Meals on Wheels Service and they can assist you with the process.
To find your nearest service visit qmow.org or call us 1300 90 97 90.