FEELING LOW, SAD, STRESSED OR ANXIOUS?
You are not alone
Stress, fear and sadness are normal feelings that we all experience at some point. But when these feelings are constant and don't go away, they become a problem and can have a serious impact on our daily life—and that's when we might need some professional support.
MindSpot GP can help
We are a free online and telephone-based mental health service that supports Western Australians aged 16+ experiencing mild to moderate anxiety, depression, chronic pain, chronic health conditions, OCD, PTSD and substance use.
ALL OUR SERVICES ARE CONFIDENTIAL, AND WE PROVIDE OPTIONAL ACCESS TO QUALIFIED THERAPISTS.
Why MindSpot GP?
We believe that all Western Australians should be able to freely access reliable and effective mental health support— when and where you need it. That's why MindSpot GP is: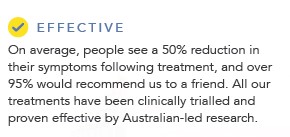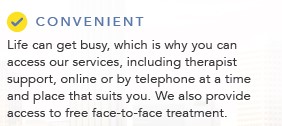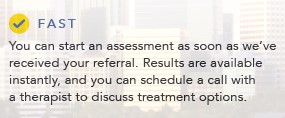 Getting started with MindSpot GP
Accessing support through MindSpot GP is simple: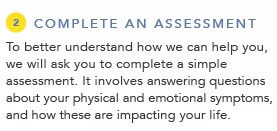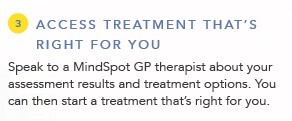 How our treatments work
Our treatments are designed to help improve your emotional health and build your resilience. We focus on empowering you with the tools and skills to become your own therapist—so you can live your most
fulfilling life. MindSpot GP offers a range of options so that you can get the support you
need, when you need it.
Teletherapy Treatment Sessions
You can access up to four telephone treatment sessions with an experienced therapist to help manage symptoms of depression, anxiety and other conditions.
Online Treatment Courses
Our eight-week courses teach you clinically proven strategies to manage your symptoms, and help you practice how to apply these skills to your daily life. You can opt to either complete an online course independently, or with weekly support from a therapist.
Face-to-face Treatment
If online or telephone treatment is not suitable, we can provide you with access to up to six free face-to-face sessions.
MORE THAN 30,000 PEOPLE HAVE ENROLLED IN ONE OF OUR ONLINE TREATMENT COURSES.
Ask your GP for a referral to MindSpot GP.
Email: contact@mindspot.org.au
Phone: 1800 61 44 34
Website: mindspot.org.au/mindspot-gp
MindSpot GP is not a crisis service. If you are feeling suicidal or need urgent help please phone:
Mental Health Emergency Response Line: 1300 555 788
Lifeline: 13 11 14
Suicide Call Back Service: 1300 659 467
Emergency services: 000