Experts warn the latest cosmetic surgery procedure to take off on social media can have long-term implications
Buccal fat removal is not a new cosmetic procedure, but in the wake of celebrities such as Chrissy Teigen admitting to the operation, it's become increasingly popular. "It seems to be something that's very popular in the zeitgeist at the moment," says Dr David Morgan, Vice President of the Australian Society of Plastic Surgeons. "I've seen a noticeable and significant increase [in requests]. I was not doing very much of it five years ago at all but there are certainly those coming through the door now that are quite keen in exploring it."
Buccal fat removal involves removing fatty tissue from the cheeks, via a small incision inside the mouth, resulting in the appearance of more pronounced cheekbones. While most prospective patients are in their 20s, Dr Morgan, who is a specialist plastic surgeon, says the procedure isn't suitable for everyone. "The downside and the risk is that you can take too much buccal fat out and make your face too hollow, which can make you look aged at an earlier age," he explains. Unlike some other popular treatments such as Botox, buccal fat removal is permanent. "That's part of what the conversation is, to make sure that people understand that they're not asking for something that is excessive, and not asking for something that they're not going to be happy with in two, five or ten years," says Dr Morgan. "Clearly some people have excessive amounts of cheek fat and it's a reasonable request but for most people who have normal cheeks, then the discussion is more about, 'Do you understand what this is going to mean in the future? Do you understand this is not easily reversible? Is it really the right thing for you?
Here Dr Morgan shares answers to the most commonly asked questions about buccal fat removal and explains how to find a reputable cosmetic surgeon
What is buccal fat removal?
Buccal fat is a unique pocket of fat in the cheek, just below the cheekbone, lying between the muscles, it gives expression to the face and the muscles that line inside of your mouth. It's quite a discrete pocket, and gives fullness to your cheeks. Some people naturally have more, some people naturally have less, but generally as we age, or if we lose a dramatic amount of weight, it diminishes. If someone feels their cheeks are too round, and they prefer a look where they have more defined cheekbones, then the operation can be done to reduce their buccal fat volume.
How is buccal fat removal performed?
All surgery is invasive however this is a relatively small procedure. A small cut is made inside the mouth, near the upper teeth around the first and second molar. It can be as small as 1 – 1.5cm. The fat is then teased out and cut off, and the wound is closed. I use a general anaesthetic but it can be done under a level of deep sedation, however you have less control over a patient's airway in those circumstances.
A patient would come in for surgery, fasting for the anaesthetic. They would have the anaesthetic and then it's a quick procedure – about 30 to 45 minutes. They then typically recover for an hour or two before going home after a thorough review. So, it's half a day in hospital.
.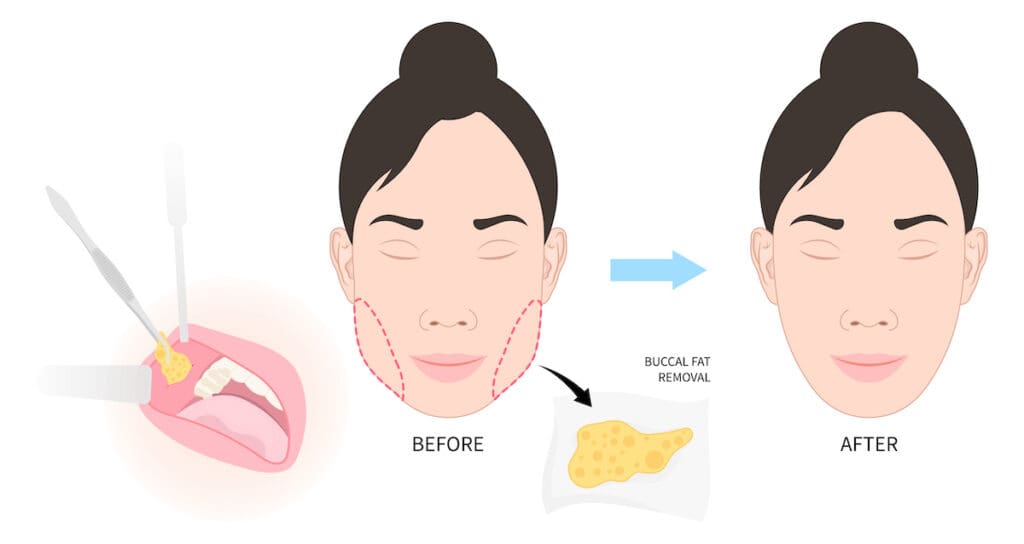 Is buccal fat removal safe?
All surgery carries associated risks. This is a relatively straightforward procedure but there are definitely risks such as wounds inside the mouth, taking too much fatty tissue and giving the patient a look that's excessively hollow, risks of damaging the salivary duct, or risks to the nerve that controls the movement of the face. One of the major risks is having under-qualified practitioners do this type of surgery in non-accredited premises. It is clearly higher risk in those circumstances and it is something that patients should be aware of
How long does buccal fat removal last?
Buccal fat removal is permanent; once it's been removed, you can't put any back in. It's quite a unique pocket of fat, you can't just fill that space back up again.
How long does buccal fat removal take to heal?
The cut can be tender for 48 hours but usually doesn't bother people too much. If there hasn't been any bleeding from the cut edge of the fat, then there's not an awful lot of swelling or bruising and that all settles pretty quickly. We use dissolvable stitches, so they'll go away on their own in a week or two. We ask patients to have good oral hygiene, making sure their mouth is clean after eating so that there's no food particles up against the wound. We advise patients to use mouth rinses and be careful when brushing their teeth. We often recommend a baby toothbrush or even a little electric toothbrush because the head is smaller. There's no special diet to follow, but we recommend softer food is most comfortable in the early days post-surgery.
What are the long term consequences of buccal fat removal?
A big part of ageing is that we all lose volume and people present with the signs of that in their face. Having this procedure done in your 20s, may result in that aged appearance presenting itself at a much earlier stage.
How do I find the best doctor for buccal fat removal?
The first step for patients is to look for someone who calls themselves a surgeon. The second thing is to look for the letters "FRACS" after a surgeon's name, which means that they are a fellow of the Royal Australasian College of Surgeons and have passed the specialist training programme. That means they have completed an average of 10-12 years of study and training since starting medical school.
There is a lack of understanding of the title surgeon in the public domain. I would always recommend that any patient wanting surgery does their research and asks many questions before committing to a procedure.
How much does buccal fat removal cost?
The price varies. Like any industry, it's a market. A ballpark cost of buccal fat removal would be between $2000 and $3000.